Selecting Keywords
Choose keywords that web visitors are likely to enter into a search engine when looking for your products or services. Do not choose words unrelated to your busin ess. For example if you are an artist do not choose tennis racquets as a keyword. Tennis players may enjoy art but are unlikely to buy it while looking for new tennis equipment.
Do not be too specific with your keywords. The artist may be world famous for creating "modern art painted with oil paints framed in silver frames" but it is not a good idea to list this as very few people will type specific phrases like that into a search engine.
The best rule when deciding which keyword to use is to ask existing customers: "What would you type into a search engine when looking for a company that provides products and services like ours?"
Note: you do not want what they type in to specifically find you but rather you want to find out what they would type to find sites offering products and services like yours . E.g. In the case of the artist he should probably choose paint, portraits and art.
Google and WebEd
When developing WebEd we were able to take advantage of these rules. They have been built directly into WebEd and are already present when you publish content using WebEd.
If your current website is not ranking well on Google, following the simple step of migrating the website to WebEd will ensure that it will start to rank higher with the search engines. The rules to ensure inclusion in the Google index are handled automatically by WebEd and ultimately your site will achieve good ranking in the Google search results.
We have worked with many sites that did not rank well prior to migrating to WebEd that now achieve consistently high results simply as a result of moving to WebEd.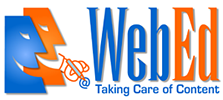 Remember, there is no substitute for content, and attempting to rank a five page website in a busy keyword segment will be extremely difficult, especially when you consider that some sites have millions of pages of content. But if you have a good depth of content and follow the rules using WebEd your ranking will increase.